Packaging
Don't Compromise On Safety: Hire Professionals For Safe Packaging And Moving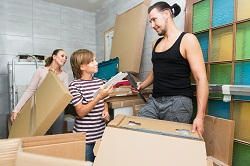 House removals are known to be a taxing time, and can really take a toll on you if you're not prepared. One of the best ways of making sure that your house move is a time-effective, hassle-free and fun process is to hire a reliable team of packers and movers to take the responsibility off your hands. If you're looking for a trustworthy moving company in London, give Balham Removals a call at
.
Working with a team of professional packers is one of the best ways of ensuring that your things are packed and transported properly, in a timely manner. Trying to take care of house relocation yourself may seem like a great idea when you're running low on funds, but it's actually a very complicated process and there are a lot of risks in a DIY house removal. Hiring a moving company is always advisable, because it helps you save on effort, time and of course, minimises the risks that come with amateur house removals.
If you're wondering just what these risks are, you'd be rather surprised, and alarmed, to learn that unless you have a lot of experience with home removals, you may actually do a lot of harm to yourself or to your belongings. Packing things into packaging boxes and moving them onto a vehicle may seem like a fairly straightforward process at first, but when you take a moment to think about all the potential hazards, you'll appreciate just how difficult a task it is.
With all the equipment, packaging supplies, tools and the general mess strewn about, lifting very heavy boxes and oddly shaped items, carrying things to and fro the moving vehicle, carrying items up and down staircases etc., it makes sense to leave house moving to the pros.
Packaging might seem like an easy enough task on paper, but when you actually get right down to it, there's a lot of labour and physical activity involved. While the simple act of putting things into boxes might not be very dangerous in itself, but the supporting tasks are. For instance, many people use packaging materials and tools like box cutters and industrial scissors while packing things and a shaky, inexperienced hand can cause severe injuries and some painful moments when you're already stressed enough as it is!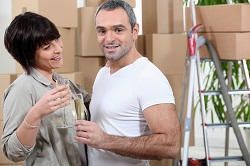 Then there is the matter of lifting and loading heavy boxes and large items. Under no circumstances should you ever attempt to pick such things up on your own. The load might be somewhat eased if you seek the help of a friend or a relative, but why put another person at risk when you could just as easily hire professionals to do a much better job?
You probably didn't know this, but picking and lifting things up is an exact science and our removals specialists actually undergo extensive training to be able to perfect it. The manner in which you pick up and loading heavy items into the removals vehicle will not only determine how much time and effort the activity takes, but will also determine the risk of harm to your bodily person as well as the items being moved. It's not really as easy as bending down and picking things up: there's a lot that goes into effective, safe and quick removals.
Make the prudent decision and hire professional packers and movers to keep yourself, your family and your belongings safe. When you call in the pros, your home relocation will be a safe and happy experience! To get more safety advice, contact Balham Removals specialists at
.